TORPEDO BOATMEN MEMORIAL CHARLESTON, SC
Posted By : manager
Posted : February 26, 2022
By: Mike Thomas
We all know and recognize the "Defenders" monument on Charleston's Battery. However, another Confederate-themed monument in White Point Gardens is less recognized the Torpedo Boatmen Memorial. It has long been overlooked and rarely noted in recent years but should remain an inspiration to all.
The Charleston Evening Post [January 11, 1899] reported the United Daughters of the Confederacy had petitioned the City of Charleston for permission to place a memorial tablet in City Hall to the memory of the men of the Confederate Torpedo Service. The idea was readily accepted, but the lat-er discussion led to other possible placement sites. In time the concept grew much more significant, and a decision was made to erect a suitable monument instead of simply placing a memorial tablet on a wall. With this in mind, a location in White Point Gardens at the foot of Meeting Street was selected. The UDC and the Ladies Memorial Association of Charleston joined forces and worked closely with the city in "Boatmen Memorial," making the monument a reality less than four months after the initial concept was presented…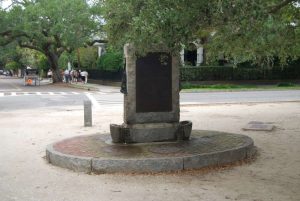 The Ladies Memorial Association quietly appealed for $1,000.00 in donations to cover the cost, quickly met with nearly every dollar coming from Charlestonians. A fine piece of granite allowing for a seven-foot-tall monument was donated from a firm in Greenville, and the sculptor added flanking water fountains in the form of dolphins. The southern face has a detailed brass plaque attesting its purpose with the top portion reading, "In Memory Of The Supreme Devotion Of Those Heroic Men Of The Confederate Army And Navy, First In Maritime Warfare To Employ Torpedo Boats 1863-1865". The memorial tablet mentions Torch, Hunley, and the Little David and the then-known names of those who died in their service. It also says some of their specific attacks against the Union fleet blockading Charleston.
Following the monument's dedication, the Charleston News and Courier carried a lengthy article on May 9, 1899. Headlined, "Long Neglected Heroes, Fitting Honor Done Their Memories Yester-day," it reported a festive occasion with martial music, a Confederate flag, and much enthusiasm. The timing of this event was particularly notable for May 9 was the start of the United Confederate Veterans Convention in Charleston, and thousands of UCV members were in the city.
Simple in design and appearance, its meaning and significance have never changed or diminished. By all accounts, the men in the Torpedo Service were heroic volunteers deserving proper recognition for their efforts in one of the most dangerous fields of duty in the war.